There are some crazy collaborations, that we would never dare imagine and which taste like a miracle. For around ten years, two editors, Fabrice Douar and Sébastien Gnaedig, have been working to put manga and the Louvre together. Thanks to their work, the greatest mangakas in the world have been invited to visit the museum and write up new stories, featuring their heroes…
Hirohiko Araki : fashion manga and haunted painting
Which other character from JoJo's Bizarre Adventure would be more relevant to visit the world's largest museum? Indeed Hirohiko Araki took advantage of this collaboration to showcase his artistic and charismatic alter ego: Rohan. Although an original story was originally planned, Araki's editor was not very enthusiastic about seeing him fly to France in the middle of his busy schedule. It is therefore a spin-off of Rohan's youth, all colored to pay homage to French comics.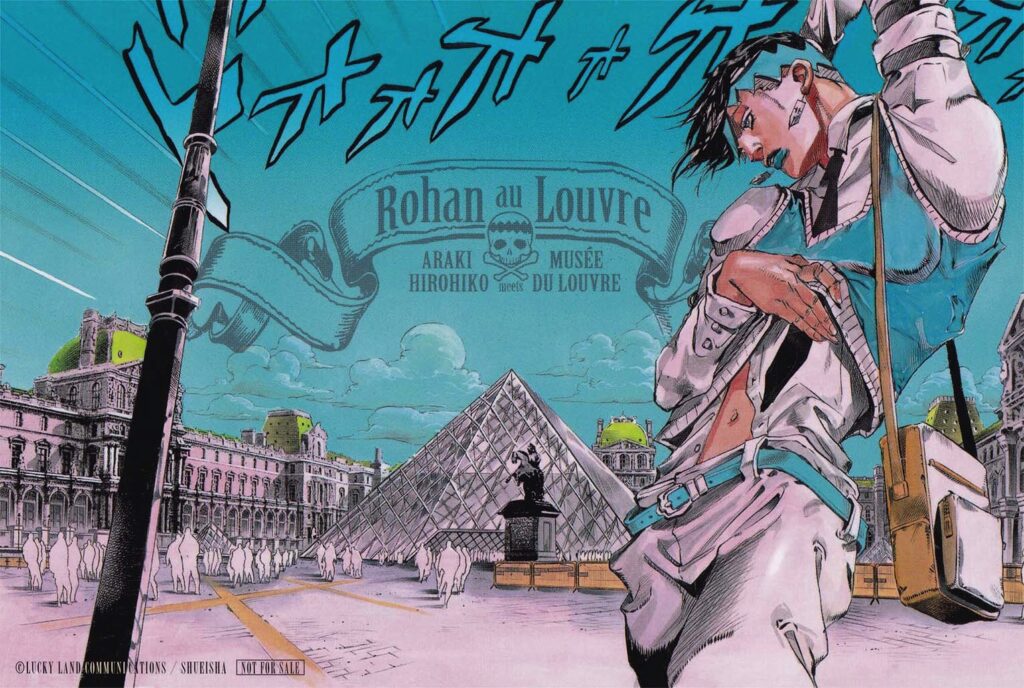 It is with this work that the Louvre and Futuropolis launched their new Franco-Japanese collection in 2010 and marked their greatest success. Even today, it is the best-selling manga in the museum's shops.
Taiyō Matsumoto : experimental cat manga
The author of Amer Béton and Ping-Pong, highlighted at the 2019 Angoulême festival is a Franco-Belgian comics fan. Needless to say that Fabrice Douar's offer was a delight to him. Following in the footsteps of his idols Enki Bilal and Moebius, the mangaka travels to France. After his visit to the Louvre, Taiyō Matsumoto decides to combine the nocturnal atmosphere of the museum with equally mysterious animals : cats.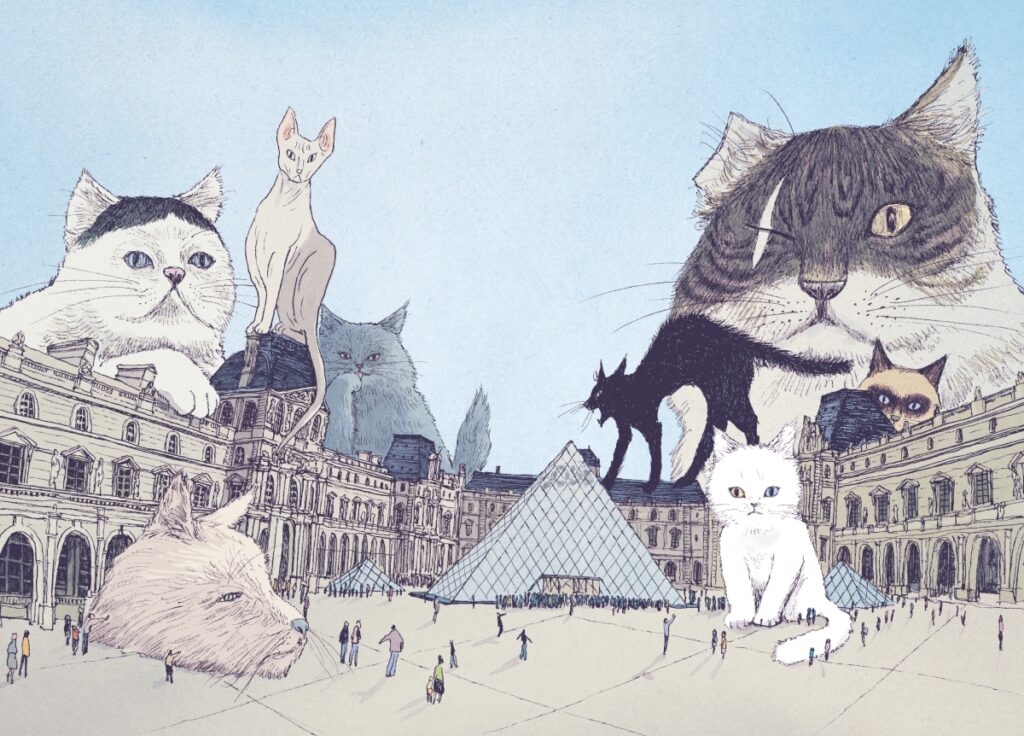 In Les Chats du Louvre, the cute little felines start talking. There is Bluebeard, Forget-me-not, Sawtooth, and the little white cat is Snowflake. It is said that he is special since he might be a  "painting jumper"… In two volumes, Taiyō Matsumoto depicts a floating and dreamlike world, sublimated by the recent colorization of Isabelle Merlet.
Naoki Urasawa : suspense and art theft

Fabrice Douar and Sébastien Gnaedig have the chance to catch Naoki Urasawa between two publications. Indeed, in 2017 the mangaka had just finished Master Keaton Remaster and was about to begin his new series: Asadora!. Urasawa enthusiastically accepts the proposal from the two French publishers. For a few days, he follows the night watchmen of the Louvre and even explores its underground passages searching for inspiration.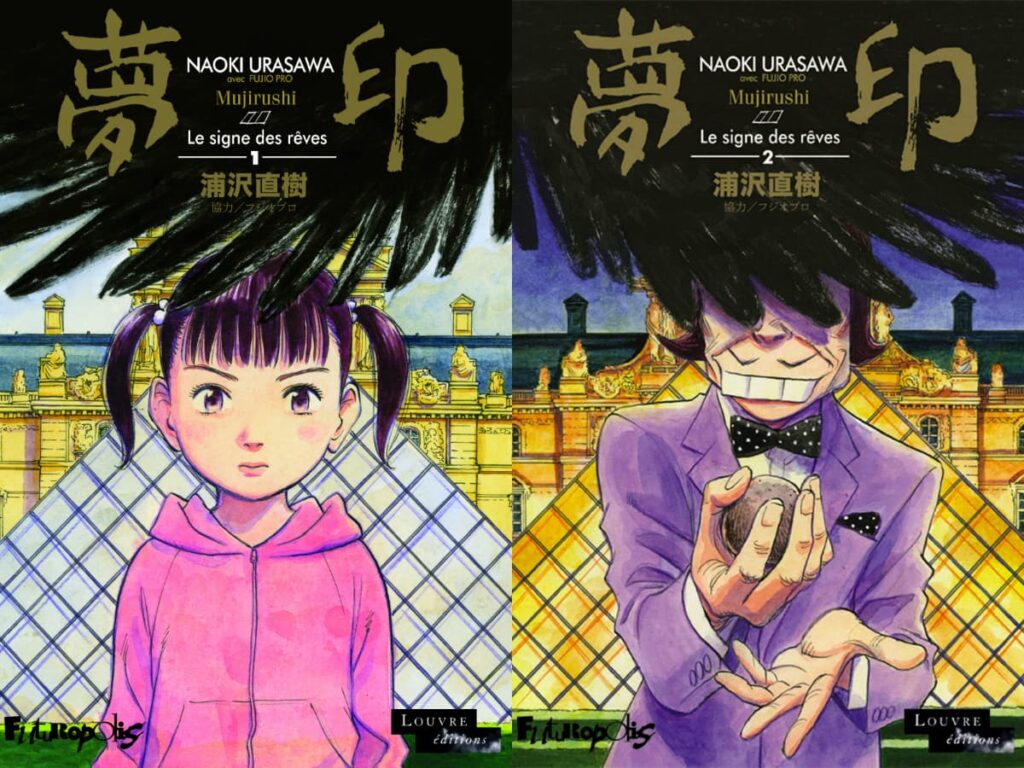 After some hard thinking, the thriller master decides to feature a comical and very famous japanese character : Iyami. Born in the pages of Osomatsu-kun, this cunning, miserly, elegant and full of himself man actually claims to come from France. Here, Naoki Urasawa gives him a touching and mysterious past. On the program : art theft, infiltration and adventure!
Jirō Taniguchi : historical anecdotes
When Fabrice Douar went to Japan with the idea of a collaboration, he had three names on his list : Hirohiko Araki, Naoki Urasawa and finally, Jirō Taniguchi. If the latter is an extremely prolific author, this collaboration will prove to be a bit of a challenge for him. Indeed, the author of The Summit of the Gods and Kodoku no Gourmet will spend more than a month in Paris for his longest scouting trip of his entire career. The resulting work, The Guardians of the Louvre, immerses us in the history of the museum's works and artists.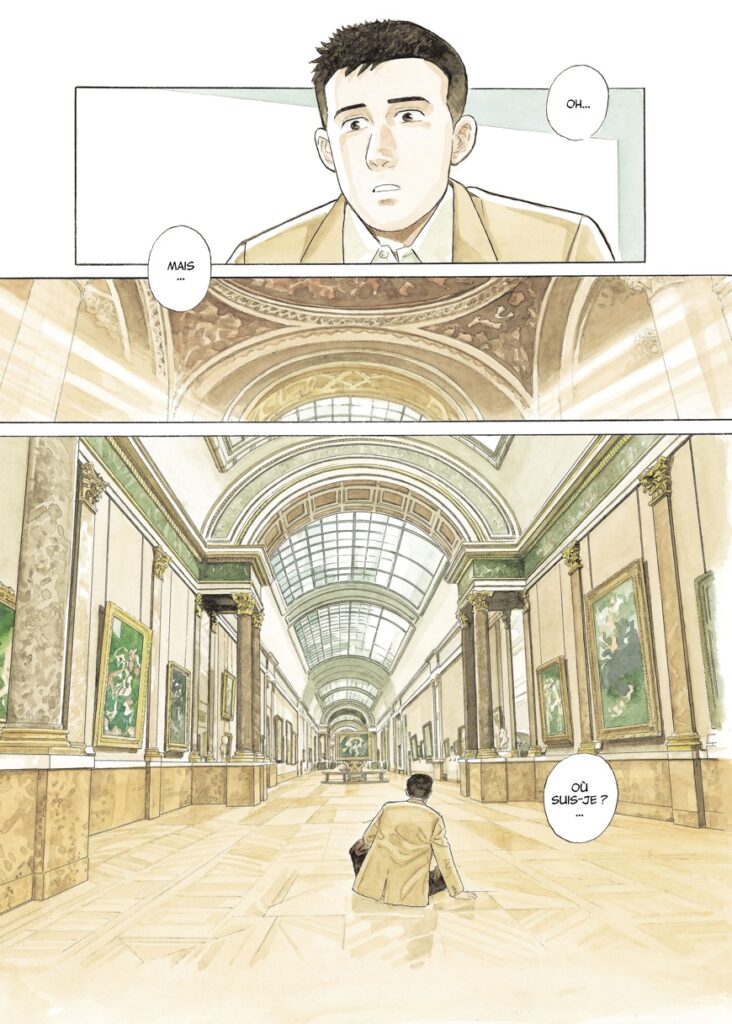 Here the hero, struck by a hallucinatory fever, oscillates between dream and reality. With his color palette as gentle as his plot, Jirō Taniguchi offers us a beautiful, artistic and historical stroll.
The Dreamers of the Louvres : 8 mangas in one
2015 marks the 10th anniversary of the Les BD du Louvre collection. So to celebrate, a major international exhibition takes place across France, Taiwan and Japan. In order to pay tribute to this artistic collaboration, our dear Fabrice Douar and Sébastien Gnaedig publish an anthology of 4 Taiwanese authors and 4 Japanese authors.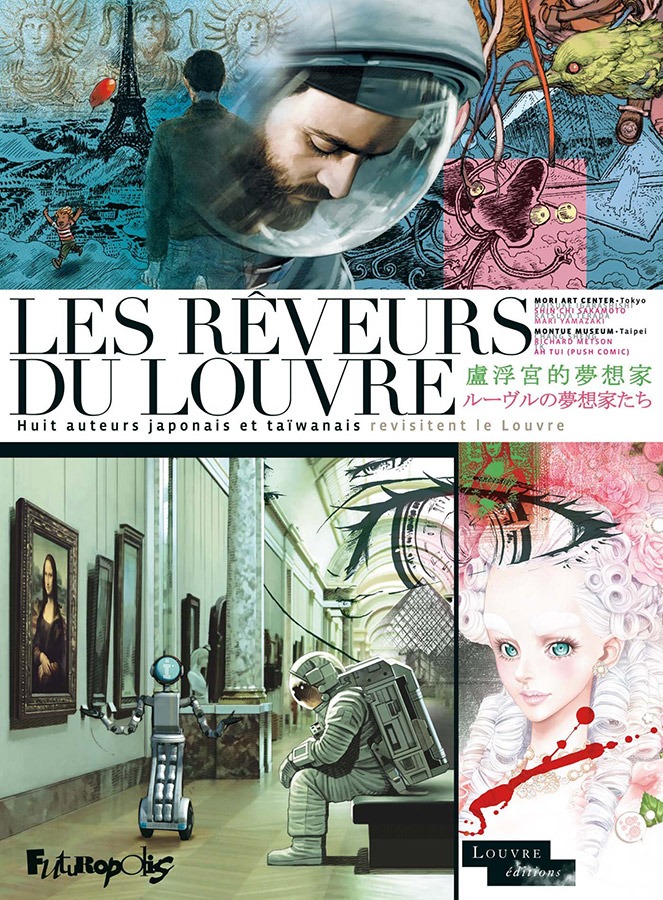 Through their imagination or their personal history, these eight perspectives look differently at the museum and take us on a journey into alternative and eclectic universes.
Fortunately for us, the Louvre's comic book collection is not about to stop, even for its Japanese part. Indeed, Minetarō Mochizuki (Chiisakobé) has already announced his future participation. Although it is being awaited since 2018, the collaboration is apparently still on the table. While we hope to see these comics published soon, we can already dream of the future artists that will accept the challenge and take us for a visit in one of the most beutiful places on Earth…
Source: