During Paris Games Week 2023, we were able to meet the team behind the awaited survival STALKER 2: Heart of Chornobyl. Yevhen Bazarov, community manager of the game, tells us how much the team cares about it. He also brings light on what we can expect.
I am Yevhen Bazarov. I am the community manager and marketing guy. We are here with the S.T.A.L.K.E.R. 2 demo.
The S.T.A.L.K.E.R. franchise is back
Let's put some context to the situation of the S.T.A.L.K.E.R. saga. No official game has came out since 2009. The idea for a STALKER 2 was born in 2010 but the game suffered multiple cancellations by GSC Game World. The development finally starts in 2018. Unfortunately, between the Covid crisis and the war in Ukraine, the team of the game has been through a lot of complications. They told us, amongst other things, that they suffered multiple blackouts. However, the game seems to get to the final steps of development and should come out first quarter of 2024 !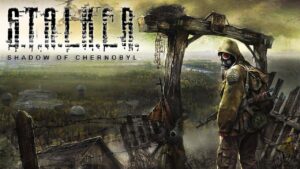 The first S.T.A.L.K.E.R. is a classic and the second one is highly anticipated. It's a direct sequel.
S.T.A.L.K.E.R. 2 is based on the first game, but if you have not played it you can still start from here. Our game takes back stories and territories from S.T.A.L.K.E.R. Shadow of Chernobyl. You're playing in the real Ukrainian city of Pripyat. There was a blow there years ago : the Chernobyl execution. We tell an alternative story: what if there was a second blow in the Chernobyl execution zone? Our game is a first person shooter with horror, looting and exploration elements…
The team is deeply passionated by the licence and they are extremely invested in their work. We asked Yevhen Bazarov what it felt like to bring the saga back to life.
The first game came out many years ago and now we have a strong community who is waiting for the second one. It gives us a lot of motivation and we really are passionate. We also see how we can put our ideas into the new S.T.A.L.K.E.R. We see and show how the licence can move forward to the future. A lot of developpers played the games growing up, inclunding myself. So… It's like a dream. It's an important game and an important story for my country too.
Hopes for the future
The war in Ukraine has deeply impacted the game and we were wondering the importance of such a game in this geopolitical context. Turns out the game is a true Ukrainian cultural product that had a great impact on its people.
It's a really important game for Ukraine and our neighboring countries. In my childhood, all of my friends had played S.T.A.L.K.E.R. A lot of people open up when talking about the game. This universe and those games are so loved.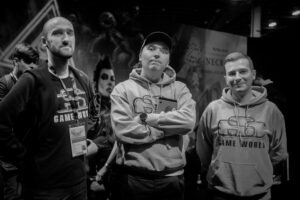 This geniune and passionate team welcomed us with care. They opened up to us and we can really feel how much they want to make people feel strong emotions through their work. They want to share their universe with the players as best as they can.
We hope S.T.A.L.K.E.R. 2 will make the players feel similar emotions to the ones they felt with the first game. But for sure, it's a new game. We want to show the real Chernobyl execution zone in a new way. The game takes place a lot in this zone, with real places and architecture from there. That people played the first game or not, we hope they will get the Chernobyl vibes. We also hope they will enjoy this lonely exploration and that they will feel what we want to put in this game.
We were able to test the game and we cannot wait to play it entirely. Thanks to Yevhen Bazarov and the developpers for this game session and this moment of sharing. S.T.A.L.K.E.R. 2 Heart of Chornobyl is developed on Unreal Engine 5 and is set to realease first quarter of 2024.